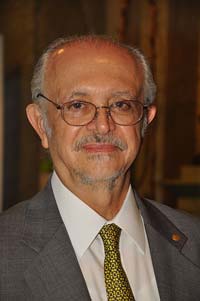 Born: March 19, 1943 in Mexico City, Mexico
Nationality: Mexican
Famous For: researched threat to the Earth's ozone layer of chlorofluorocarbon gases
Awards: Tyler Prize for Environmental Achievement (1983), NASA Exceptional Scientific Achievement Medal (1989), Nobel Prize in Chemistry (1995)
Almost everyone knows that chlorofluorocarbon gases, or CFCs, are bad for our environment. Most governments are striving to achieve lower CFC emissions to save the ozone layer. The world first heard about CFCs and their impact on the ozone layer in 1978 when scientists Mario Molina and Sherwood Rowland published their findings. This later led to the discovery of the ozone hole over the Antarctic. The discovery won the two scientists, and Paul Crutzen, the 1995 Nobel Prize in Chemistry. Mario Molina thus became the first Mexican-born scientist to win a Nobel Prize in Chemistry.
Mario Molina was born on March 19th, 1943 in Mexico City. His father, Roberto Molina Pasquel, was a lawyer and a diplomat. He served as the country's chief Ambassador to Australia, the Philippines and Ethiopia.
Early Years
The first part of Mario's education was completed in Mexico City where he attended elementary and high school. Even before joining high school, he was fascinated by science and was excited to experiment with scientific apparatuses like microscopes.
Mario converted a sparingly used bathroom in his house into a laboratory and spent a lot of time doing chemical experiments. His aunt Esther Molina was a chemist and she was quick to spot the interest of young Mario in chemistry. She also helped him perform chemistry experiments that were well ahead of his class.
Education
When he was 11 years old, Mario was sent to a boarding school in Switzerland. Though his skill with the violin made him think about a career in music, his fascination for chemistry took over and he decided to become a research chemist.
He enrolled in the chemical engineering program at the National Autonomous University of Mexico (UNAM) in 1960. After completing his undergraduate degree, he decided to obtain a Ph.D. in physical chemistry. After going to a number of different places, including Germany and Paris, he returned to Mexico and became an Assistant Professor at UNAM. In 1968, he left for Berkeley and pursued graduate studies in physical chemistry at the University of California.
At Berkeley he got his first serious look at the impact of science on human life and society. He was upset that a lot of research was being done for destructive purposes, like the development of weapons, rather than for the benefit of humanity. Molina decided that he wanted to work on projects that would be beneficial to the society. He completed his Ph.D. in 1972, but continued his research work for another year at Berkeley.
Research and Achievements
In 1973, Molina moved to Irvine, California. He joined Professor Sherwood Rowland and his group as a postdoctoral research fellow. It was here that he began his research into CFCs. CFCs were a group of inert chemicals widely used in those days as refrigerants and chemical propellants. Though CFCs were thought to be harmless to the environment, they kept accumulating in the atmosphere and Molina wanted to find out what eventually happened to them.
Sherwood and Molina found that the CFCs were drifting into the upper atmosphere and eventually being destroyed by the sun's radiation. In the process, they released chlorine that was rapidly destroying the ozone layer. Three months after Molina joined the research, the CFC ozone depletion theory was developed.
The larger scientific community came to know about the problem when Molina and Sherwood published a paper which was featured in the June, 1974 issue of Nature. The next step was alerting scientists, governments and the news media about the threat to the ozone layer.
It was hard to convince the stake holders because CFCs were widely used chemicals at the time. After some skepticism, even commercial manufacturers agreed that the problem did exist and efforts to reduce the use of CFCs began. Further studies led to the discovery of the Antarctic ozone hole and eventually won the scientists the Nobel Prize.
Contributions, Awards and Honors
Mario Molina held many important positions between 1974 and 2004, which included research and teaching posts at UC Irvine, Jet Propulsion Laboratory and MIT. He serves on the boards of many environmental organizations and is a member of several important committees, including the U.S. President's Committee of Advisors in Science and Technology.
Apart from the Nobel Prize, he won several awards like the Esselen Award, NASA Medal for exceptional scientific achievement, UN Environmental Programme Global 500 Award, and the American Chemical Society Prize. He has also been awarded honorary degrees from several Mexican, U.S., Canadian and European universities.
In 2005, Dr. Mario Molina moved from MIT to the University of California, San Diego and then to Mexico City. His current work is related to air pollution in cities, air quality and global change issues. He was selected by President Obama to form part of the transition team on environmental issues.