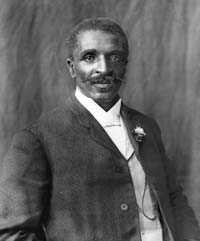 Born: Jan, 1864 in Diamond, Missouri, U.S.
Died: Jan 5, 1943 (at age 79) in Tuskegee, Alabama, U.S.
Nationality: American
Famous For: Researched and promoted alternative crops to cotton, such as peanuts, soybeans, & sweet potatoes. Found many recipes and household uses for peanuts
Awards: Spingarn Medal from NAACP (1923), Roosevelt Medal (1939)
Famous for his calm perseverance that led to major advances in agriculture and crop management, George Washington Carver was truly a champion who set an impressive example for others who would see an obstacle as a opportunity.
The Early Years
George Washington Carver was born into slavery in Missouri. He was fortunate to be raised, along with an older brother, by the couple who took them in after a heinous kidnapping incident that resulted in the loss of the rest of their family. George's master, Moses Carver, was able to recover George and his brother and shared his surname with them. Moses and his wife, raised the boys as if they were their own children and encouraged them to pursue their educational goals. Moses' wife, referred to as "Aunt Susan" by George and his brother, even taught the children the basic skills of reading and writing.
Education
After being rejected from college admission because of his race, George homesteaded a claim where he raised an assortment of crops, trees, and other plants through manual cultivation. He gained tremendous insight as to botanical life and nutritional needs, pioneering the concept of crop rotation for purposes of soil conservation in fields that had been nutritionally depleted by exhaustive cotton crops year after year.
By obtaining a bank loan, he was able to enroll in college where he excelled in the fine arts. It soon became obvious to his instructors that he had a natural talent for botany, due to the detail and knowledge exhibited in his paintings.
Upon completion of his bachelor's degree, he took the advice of those who encouraged him to seek his master's degree. His primary focus of study was in plant research which eventually led to his being recognized as an esteemed botanist.
Accomplishments
Among the many accomplishments of George Washington Carver is that of his contributions to crop management and soil conservation. He also introduced the concept of planting alternate crops as a way to preserve nutrients in the soil, while providing additional food sources for farmers' families and markets.
Carver was also a champion of the peanut farmers. In his early work with alternative crops, he discovered that vegetables such as sweet potatoes and legumes, including peanuts, not only provided additional food sources, but also increased the amount of nitrogen, a valuable nutrient, in the soil. When Congress imposed restrictions on the sale of peanuts to China, Carver testified before Congress on behalf of peanut farmers and their organizations.
In the 1930's Carver became a leader in the newly developed field of chemurgy, which was a quickly growing area of chemistry. Chemurgy, which was mainly concerned with using agricultural products for manufacturing and industry, helped to solidify the economic status of farming in the United States during the Great Depression.
But perhaps Carver's greatest accomplishment was that of not allowing societal prejudice to define him. Instead, he used the love and positive self-esteem that was instilled in him from his role models as a child to forge new paths and side-step obstacles that would have discouraged others in similar situations.